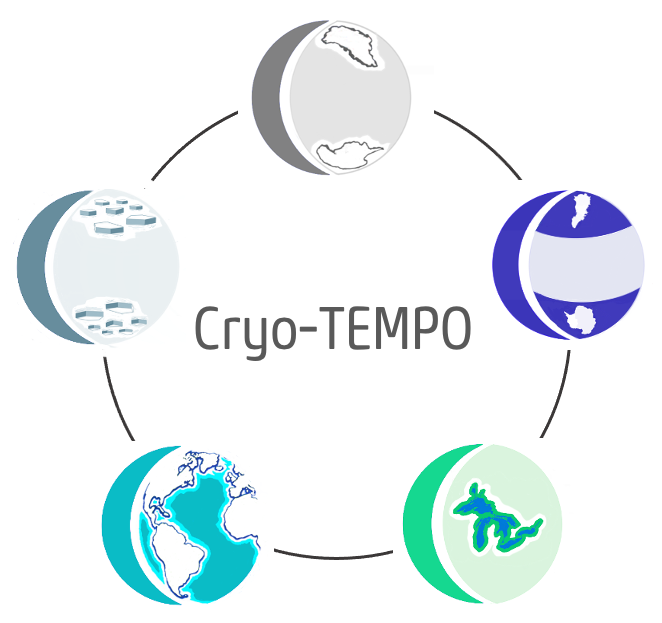 Product Downloads
ESA Cryo-TEMPO netcdf products from the full mission period are currently available only by ftp from the ESA CryoSat-2 Science FTP server at science-pds.cryosat.esa.int.
Products from new data subsequently acquired by CryoSat-2 will be processed and delivered operationally on a monthly basis (by the 5th working day of each month).
Note that you can not connect to the science-pds.cryosat.esa.int address directly from a web browser, but must use an ftp client.
ESA's CryoSat-2 ftp site currently names the Cryo-TEMPO products under the following ftp directories:
| Cryo-TEMPO Product | FTP Directory |
| --- | --- |
| Land Ice | TEMPO_POCA_LI/<YYYY>/<MM>/<ANTARC, GREENL>/CS_OFFL_SIR_TDP_LI_....._B001.nc |
| Sea Ice | TEMPO_POCA_SI/<YYYY>/<MM>/ARCTIC/CS_OFFL_SIR_TDP_SI_....._B001.nc |
| Polar Oceans | TEMPO_POCA_PO/<YYYY>/<MM>/ARCTIC/CS_OFFL_SIR_TDP_PO_....._B001.nc |
| Coastal Oceans | TEMPO_POCA_CO/<YYYY>/<MM>/MEDSEA/CS_OFFL_SIR_TDP_CO_....._B001.nc |
| Inland Waters | TEMPO_POCA_IW/<YYYY>/<MM>/<CALAKE,USLAKE,SWLAKE,POBASI,ITBASI>/CS_OFFL_SIR_TDP_IW_....._B001.nc |
where <YYYY> is the 4-digit year, <MM> is the 2 digit month