Surface Elevation Change (SEC) from Satellite Altimetry
View elevation change in an Antarctic region or drainage basin by clicking the map below. Choose results from a specific satellite mission or period in the panel to the right. Expand the basin results for more detail.

Antarctic Drainage Basins
click in a Basin to show Surface Elevation Change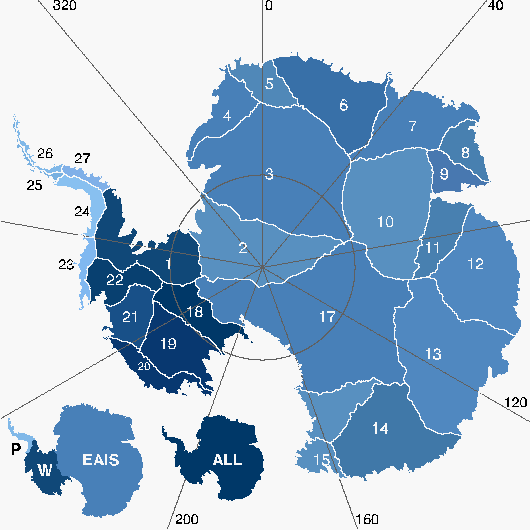 Area Description & Scientific Commentary

The Antarctic Ice Sheet covers about 98% of the Antarctic continent and is the largest single mass of ice on Earth.

Surface Elevation Change Trends: for all Antarctica (Surface Fit method)
| Period | dh/dt m/yr | dV/dt km3/yr | dM/dt Gt/yr |
| --- | --- | --- | --- |
| 1992-1996 | -0.025 | -299.35 | - |
| 1997-2001 | 0.003 | 32.77 | - |
| 2002-2006 | 0.003 | 31.98 | - |
| 2007-2011 | -0.008 | -92.93 | - |
| 2012-2016 | -0.029 | -349.94 | - |