New: (16-May-2019) : Following the publication in Geophysical Research Letters of Trends in Antarctic Ice Sheet Elevation and Mass, we are releasing new Antarctic 25 year elevation trends and mass change timeseries data.
Surface Elevation Change (SEC) from Satellite Altimetry
View elevation change in an Antarctic region or drainage basin by clicking the map below. Choose results from a specific satellite mission or period in the panel to the right. Expand the basin results for more detail.

Antarctic Drainage Basins
click in a Basin to show Surface Elevation Change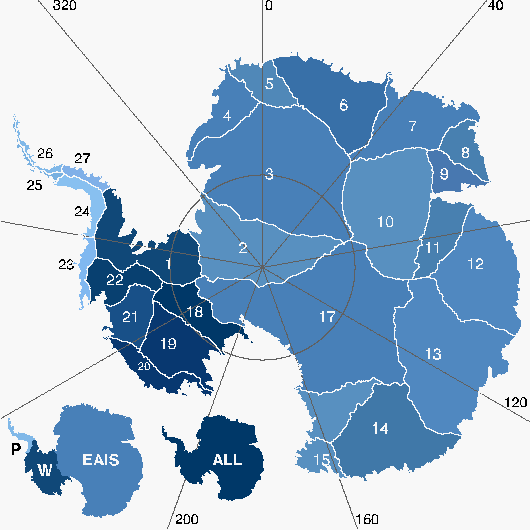 Area Description & Scientific Commentary

The Antarctic Ice Sheet covers about 98% of the Antarctic continent and is the largest single mass of ice on Earth.

Surface Elevation Change Trends: for all Antarctica (Surface Fit method)
| Period | dh/dt m/yr | dV/dt km3/yr | dM/dt Gt/yr |
| --- | --- | --- | --- |
| 1992-1996 | -0.025 | -299.35 | - |
| 1997-2001 | 0.003 | 32.77 | - |
| 2002-2006 | 0.003 | 31.98 | - |
| 2007-2011 | -0.008 | -92.93 | - |
| 2012-2016 | -0.029 | -349.94 | - |